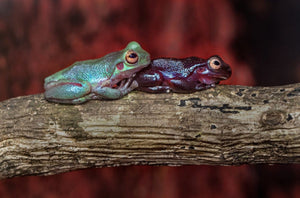 What kind of veterinarians are there?
How can you tell which vet is the right choice for your animal companions? Can you take your house pets to the same veterinarian as your horses and farm animals? What about reptile companions?
Don't worry -- Dr. Jeff Werber is here to answer all of your questions! 
What Kind of Veterinarians Are There?
There are five main types of veterinarians, and all play different but important roles in pet health and safety.
Whether you have a house pet, a domesticated farm animal, or are using animal subjects in a laboratory, the kind of vet that you choose can make an impact on your pet's health and happiness.
But how do you know which vet is right for your furry -- or scaly -- friends?
Livestock Vets
Livestock veterinarians focus on domesticated livestock and other barnyard animals. So if you have a horse, this is the vet you want!
These vets may treat all farm animals or choose to specialize in one kind of animal. Specialized vets can focus on any farm animal, including chickens, cows, pigs, and horses. But be careful! Because these veterinarians focus on livestock, they aren't a good option for your house pet.
Lab Animal Vets
These specialists work in research labs to guarantee ethical and humane treatment for all of the animals involved. Lab animal vets work to keep the animals, and their human handlers, safe and healthy.
Because of their work, research animals are guaranteed humane care in each experiment. Lab animal vets are not only important for the animals: they also keep the animal specimens healthy enough to participate in experiments.
Without lab animal veterinarians, research would be much less ethical and much less effective. 
Exotic Animal Vets
For pets with scales or tiny bodies, exotic animal vets may be the best choice. These veterinarians are trained to treat exotic or atypical house pets. Any scaly companions should visit an exotic animal vet. This includes snakes, lizards, and other reptiles.
Even small mammals like chinchillas or degus can benefit from a veterinarian that specializes in exotic animals. So if you aren't sure if your regular vet is familiar with your pet's unique needs, ask!
Companion Animal Vets
Companion veterinarians treat most household pets. No matter how well you take care of your pets, having a vet is still very important for routine exams and medical emergencies. If you have a dog, cat, or other common pet, a companion animal veterinarian is where you should bring them!
Cats and dogs are the most common companion animals, but other household pets are usually welcome at companion animal veterinary clinics. Pets like birds, rabbits, and hamsters can also often be treated at these clinics.
With Airvet, you can talk to a companion animal vet any time you have a question about your pet's health!
Mixed Practice Vets
What if you have a cat and a horse? Or maybe a lizard and a dog? Do you really need two different vets? Maybe not. Mixed practice veterinarians work with different types of animals. Because they see many different types of animals, they can often help keep all of your pets healthy and happy.
So if you have a variety of pets, a mixed practice veterinarian might be a good option!
So How Can Dr. Jeff Help?
Dr. Jeff's veterinary hospital, VCA, is located in LA. He is a renowned vet that focuses on cats and dogs of any size.
Whatever your furry companion's problem is, Dr. Jeff will help to keep them in good health!
Visit Dr. Jeff Werber's Instagram account (@werbs_dvm) to view and submit questions and answers on weekly AMAs – or call and leave a voicemail at 424-835-0576. Your call will be returned posthaste.
For emergencies, download Dr. Jeff Werber's app Airvet, a video-chat option for veterinary needs at any time of day or night!