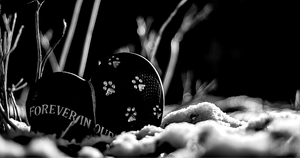 By Corinna Underwood
If pet cremation is on your mind, we sympathize. Your pet is a family member and losing a pet is always a difficult time, whatever the circumstances. Take comfort in knowing you are not alone; many grieving pet owners turn to pet cremation, when the time comes, because of its many advantages. 
This guide will explain what types of pets can be cremated, what the procedure entails, and a choice of reputable providers in the U.S.
Can Your Pet be Cremated?
The most common animals to be cremated in the U.S. are dogs, cats, and horses. However, you can cremate other pets, such as birds, reptiles, hamsters, and rabbits.
Whether you are having a cat cremation or a hamster cremation, pet cremation is a relatively simple process and after it is completed, you can take your pet's ashes home.
Note: You also have the option to scatter them in a pet cemetery.
The Process of Pet Cremation
Pet crematory services are dedicated to providing thoughtful and sensitive aftercare for your pets. During the process, your pet will be placed in a special cremation unit. High temperatures of up to 1800 degrees Fahrenheit will reduce all organic matter to dust and fragments of bone.
Your animal's cremains are then placed in a storage container.
Typically, pet cremation centers offer a range of pet urns for you to purchase to store your pet's ashes. Your pet cremation will take 30-45 minutes. A pet cremation costs between $50 and $150 depending on the size of the animal.
Pet Cremation FAQs
Can I prepare my pet cremation in advance?
Yes, you can make all the necessary arrangements ahead of time. 
What should l do if my pet dies at home?
Wrap your companion in a blanket and keep her in a cool place. As soon as you are able, bring her to a pet aftercare facility. Some pet crematoriums offer pickup services. 
Why should I choose cremation over burial?
These days, people, and their pets, are more mobile than ever. Choosing to have your pet cremated gives you the option of taking them with you wherever you go, even if you move to another country.  
Can my companion be cremated with her favorite toys?
Unfortunately, due to environmental concerns, this is not recommended. However, many pet crematoriums offer ceramic cremation companions that can accompany your pet.
Pet Cremation Services Throughout the USA
You will find numerous dedicated pet aftercare services throughout the U.S. Some of the most popular ones include:
West Coast Pet Memorial Services: This company specializes in pet aftercare. They provide personalized cremation services and a wide range of urns. They can also put you in touch with local pet cemeteries. They have locations throughout California, including Hemet, San Diego, Huntington Beach, LA, and Escondido. You can also find their services in Las Vegas, NV, Sultan WA, Colbert WA, and Clackamas, OR.
Dignified Pet Services: Offering their services since 2000, this company is renowned throughout Oregon for its pet cremation and memorial options. They also offer an annual service of remembrance in which pet owners can share their special memories of their companions online. Dignified Pet Services has locations throughout Oregon at ​Tualatin, Milwaukie, and Salem.
We Care Pet Cremation: This company offers a full-service cremation package that includes the pickup of your pet, individual cremation, your choice of urn, delivery of your pet's cremains with a commemorative poem. Additional options include a gold or silver nameplate, a keepsake keychain or necklace, and a clay paw or ink nose impression.
Oceans of Love: This is a unique service based in South California. Oceans of Love will take your companion's cremains from anywhere in the U.S. and peacefully lay them at sea. The service is completely eco-friendly. It includes flowers laid on the water and an eight-bell farewell from their yacht. Pet owners are also emailed a nautical map indicating the location, time, and date of the laying of the cremains.
Visit 
Dr. Jeff Werber's
 Instagram account (
@werbs_dvm
) to view and submit questions and answers on weekly AMAs – or call and leave a voicemail at 424-835-0576. Your call will be returned posthaste. For emergencies, download Dr. Jeff Werber's app 
Airvet
, a video-chat option for veterinary needs at any time of day or night!