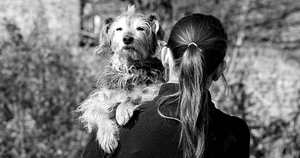 (by Andres Rojas)
Caring for your senior pets is challenging – particularly if they are struggling with an age-related health issue. Dr. Jeff Werber, a passionate advocate for humane senior pet care, has some quick do's and don'ts to help you navigate your pet's advancing years, gracefully.
DO: Get Your Senior Pets Checked Regularly
Older pets are more likely to get sick. At this stage of life, early detection is critical, in order to avoid unnecessary suffering, and offer a better chance at an early recovery.
As Dr. Jeff says:
"When your pet becomes a senior, make sure to start their senior years with a really thorough physical exam by your veterinarian. And you want to maintain that physical exam at least once a year sometimes, as they get even older, twice a year – important to make sure that they are healthy on the inside and the outside."
Whether your cat or dog is considered senior will depend on their age and breed – though cats are often considered senior at 7 and dogs at 10 years of age.
Be sure to talk with your local, trusted veterinarian, who can help you figure out a plan of action.
DON'T: Neglect Their Diet
As pets age, their nutritional requirements change.
For example, a senior CAT needs more taurine – a nutrient found solely in meat - an important reason not to force cats onto a vegan / vegetarian diet.
Senior DOGS, on the other hand, require fewer calories but need foods that have higher protein contents. This supplies them with a wealth of ingredients – like fiber and omega-3 fatty acids – that they need for their joint and bone health.
Figuring out a diet that benefits your pet's health on your own is dangerous. 
Dr. Werbs advises that:
"You want to talk to your veterinarian about any supplements that might be advisable and also possibly even a special diet, depending on the health of your pet and what conditions he or she may have."
Following a good diet will supply your senior cat or senior dog with all the nutrients they need without overstraining their delicate cardiac and immune systems.
DO: Exercise Your Senior Pet
No matter the age, an overweight pet is an unhealthy pet. However, this is even more true for senior pets.
Senior cats and dogs have weaker bones and ligaments. This means that senior pets that are carrying more weight than they can handle, have a higher risk of suffering from these pet ailments:
Diabetes

Heart disease

High blood pressure

Cancer

Difficult breathing
As Dr. Jeff explains, exercise can prevent long-term health complications:
"Exercise is key. It's very important to obviously get lighting-up on the exercise but they really do need to keep their muscle tone, that's gonna keep them healthy as well in the long haul."


Older pets get fatigued faster than younger ones, though. So talk with your veterinarian to see what activities – walking, swimming, gentle fetching, etc. – do more good than harm to your pet.
DON'T: Forget to Clean Their Teeth
Most pet owners take their dogs' and cats' oral health for granted. Maybe it's because they can't speak, maybe it's because their lives aren't usually long enough to see the devastating results of lack of care.
Whatever the reason may be, this neglect results in painful conditions – such as periodontal disease – that go unchecked for years. Perhaps even worse than living with the pain, is the fact that dental issues can be potentially fatal as well.
The steady flow of bacteria from the mouth to other areas of the body can cause health conditions as varied as:
Vision loss

Heart failure

Kidney disease

Lung disease

Oral cancer
The good news is that, as Dr. Jeff says, preventing these worse-case scenarios comes down to having a good toothbrush and a veterinarian you can trust:
"Make sure their teeth are in good shape. You want to get in a really good program brushing your pet's teeth on a regular basis because a really bad oral infection can actually lead to heart and kidney diseases as well."
Start Preparing Your Pet's Golden Years Today
Cats and dogs require increasing amounts of care as they age. However, as Dr. Jeff put it, the key to your pets enjoying their last years in good health lies in prevention:
"... Stay on top of them, see your veterinarian, and together you will keep your pet (hopefully) going healthy for a long time."
Visit Dr. Jeff Werber's Instagram account (@werbs_dvm) to view and submit questions and answers on weekly AMAs – or call and leave a voicemail at 424-835-0576. Your call will be returned posthaste. For emergencies, download Dr. Jeff Werber's app Airvet, a video-chat option for veterinary needs at any time of day or night!