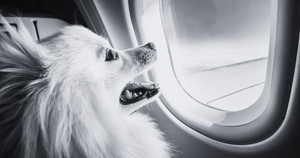 Ah, the open skies! Is there anything better than embarking on an adventure to unexplored destinations? But wait a minute, what about your four-legged family member? Should they stay behind? Absolutely not!
Traveling with your pet has never been easier, thanks to a range of pet-friendly airlines. So, buckle up as we guide you through seven American airlines that are more than ready to give you and your furry friend the VIP—Very Important Pet—experience.
Why Is Knowing Pet-Friendly Airlines Important?
Before we dive in, let's address the why. Why should you care which airlines are pet-friendly? Simple: because your pet isn't just a pet; they're family. And we all want our family to be treated well, especially when we're not within our comfort zones. Plus, not all airlines are created equal. Some go above and beyond for our furry friends, making the skies friendlier for everyone.
Pet-friendly airlines typically have protocols and facilities to keep your pet safe, relaxed, and comfortable throughout the journey. We're talking climate-controlled environments, designated relief areas, and even the occasional pet treat! Plus, let's not forget the peace of mind you get from knowing that your pet is being well-cared for.
1. Alaska Airlines: Paws Above the Rest
Alaska Airlines has a program that's a game-changer for pet travel: "Fur-st Class Care." From a dedicated check-in line to in-cabin snuggles, your pet is sure to get top-tier treatment. But, did you know the staff receive specialized training in pet first aid? So you can rest easy knowing that your fur baby is in good hands.
Seriously, with services this good, the fees are almost a non-issue. While there are some extra charges, the level of care you get makes every penny worth it. Your pet will be flying in the lap of luxury, or at least close enough to your lap to think so.
2. JetBlue: All Paws on Deck
JetBlue pulls out all the stops with their JetPaws program. How about a little pet travel guide for starters? It's the ABCs of flying with your pet. And for the cherry on top, JetBlue provides a pet bag-tag. Now, that's attention to detail!
What's more, did we mention the bonus TrueBlue points for each pet booking? Yes, you heard right. You collect frequent flyer miles not just for yourself, but for your pet too. Talk about a loyalty program that takes 'loyal' seriously!
3. Southwest Airlines: The Budget-Friendly Option
Southwest offers a fantastic budget-friendly option for you and your pet. Got a small dog or cat? They're welcome onboard in their carriers for a modest fee. And no, we're not talking about stowing your furry pal away; they get to be right under the seat in front of you.
Besides affordability, they've got a straightforward, no-frills approach. No bells and whistles, just good, reliable service. Because at the end of the day, isn't that what really counts?
4. Delta Airlines: A Dash of Luxury
Delta's a great pick if you're looking for something a bit more high-end. Sure, they have standard options for pet travel, but have you checked out their Delta Cargo service? We're talking about a climate-controlled, safe, and luxurious experience for your pet.
Don't let the term "Cargo" mislead you; this is far from a basic travel option for pets. With Delta Cargo, pets who don't fit under the seat can still travel in the lap of luxury. Climate-controlled environments and real-time tracking? Yes, please!
5. American Airlines: The All-Rounder
American Airlines offers a balanced approach to pet travel. They provide a comfortable experience for both small pets that can fit under the seat and larger pets who have to travel in the cargo hold. It's no slouch service, either; they've got specialized ventilated compartments for the latter.
Whether your pet is a jet-setter or a first-time flier, American Airlines aims to make the experience smooth for everyone. You can also earn frequent flyer miles, making future adventures more accessible.
6. United Airlines: PetSafe Program
United's PetSafe Program focuses on safety and comfort. With this service, you get perks like personal handling in climate-controlled vehicles and a dedicated 24-hour help desk.
They also provide tracking services, giving you peace of mind. Know exactly where your pet is from the moment you check in until you're reunited. That's a level of service that ensures the safety and well-being of your best friend.
7. Frontier Airlines: For the Budget-Conscious
Frontier is another option for those watching their wallets. Pets are allowed in the cabin for a fee, with some breed restrictions. It's basic but effective, ensuring you and your pet reach your destination without breaking the bank.
Their simple yet efficient service means less stress for you and your furry friend. Just make sure to read up on the specific requirements and restrictions before you book, as each airline has its quirks.
Final Thoughts: Your Journey, Their Journey, One Journey
When you decide to travel with your pet, your journeys become entwined. It's not just about getting from Point A to Point B; it's about making the journey as comfortable as possible for your four-legged family member. Choose an airline that aligns with both your needs and your pet's. And then, all that's left to do is enjoy the friendly skies together.
Visit Dr. Jeff Werber's Instagram account (@werbs_dvm) to view and submit questions and answers on weekly AMAs – or call and leave a voicemail at 424-835-0576. Your call will be returned posthaste. For emergencies, download Dr. Jeff Werber's app Airvet, a video-chat option for veterinary needs at any time of day or night!