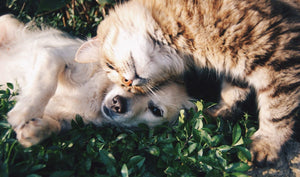 What are some of the best treats you can give your pet?    For us, homemade pet treats are the best pet treats; we know what goes into them, and we get to labor in our love. Home is where the heart is anyway, so we might as well source your treats from there as well. 
There are other benefits to feeding your pets treats you made at home too, like they're often cheaper, you can always increase the healthy aspect of it, and the best part? Sneak vitamins in your pet specifically needs! Check out these 5 homemade pet treat options and let us know which is your favorite!
1.Salmon Treats - because what could be better than a treat with the flavor cats love most? Recipe from the

Cookie Rookie
: 
Pulse the canned salmon in a food processor and chop finely

Combine salmon, egg, & flour in stand up mixer until it forms a dough

Roll out dough to 1/4 inch thickness on a floured surface

Use a cookie cutter (I recommend a 3/4 inch cutter) to cut into pieces

Put the treats on a baking sheet & bake at 350°F for 20 minutes
2. Super Cat Treat - this is a real treat for the really good cat. Not the healthiest of options, but at least you know exactly what's going in it, and you can keep it reserved for when your feline baby is being especially precious. Recipe from

MyRecipes
.
Ingredients: 
1 (4-oz.) can tuna in spring water, well-drained and flaked

1 cup all-purpose flour

1 tablespoon dried catnip

1 large egg
Instructions:
Preheat oven to 350°F. Process all ingredients in a food processor until a smooth, thick dough forms.

Form dough into 80 (1/4-teaspoon-size) balls. Place on a baking sheet lined with parchment paper, and slightly flatten each ball.

Bake in preheated oven until golden and crisp, about 15 minutes. Cool completely. Store in air-tight container up to 5 days, or freeze.
3. Bird treat - as the third most popular pet to have in the USA, birds need and deserve special attention too (as all the bird owners can attest). This is our favorite recipe for birds, are you ready for it?
….. Fresh fruit. That's all. A plate of some cut up (small) fruits and veggies will delight your small feathered family member, as well as provide them with a great source of nutrition they enjoy! Opt for harder vegetation so they can grip it in their feet easily, too. 
4. Best Homemade Dog Treat, Hands Down - sound like too long of a name? You won't think so after you make it and your dog loves it as much as he will! Certainly not the healthiest option, reserve this recipe from

Sally's Baking Addiction
, (who adapted it from
Pet Guide
,) for the really good times with pupper. 
Ingredients:
1 cup (255g) natural creamy peanut butter

3/4 cup (180ml) nonfat milk

1 large egg

(or 1/4 cup unsweetened applesauce)

2 cups (244g) whole wheat flour* (

measured correctly

)

1 Tablespoon baking powder

1/3 cup (30g) oats

(either whole-rolled or quick oats are fine)

2-3 strips cooked bacon, chopped
Instructions: 
Preheat oven to 325°F (163°C). Line two large baking sheets with parchment paper or silicone baking mats. Set aside.

In a large bowl, gently mix the peanut butter, milk, and egg together with a wooden spoon or rubber spatula. Add the flour and baking powder. You may need to turn the dough out onto a floured work surface and use your hands to work in the flour. Mix in the oats and bacon. The dough is extremely thick and heavy.

Using a floured rolling pin, cut into shapes using cookie cutters or a knife. Arrange on the baking sheets. Bake for 18-20 minutes, or until very lightly browned on the bottom. Remove from the oven, and flip the treats to bake the other side for 10-12 more minutes.

Allow to cool completely before serving to your pup. Store at room temperature or in the refrigerator for up to 1 week.

Make ahead/freezing:

Since the pups can't eat the whole batch in a week, I usually freeze them. Jude loves them right out of the freezer too! The treats freeze well up to 2 months.
Healthy pet treats combined with regular exercise will keep your pet healthy and happy for years to come. Tried these? Send us a video of your pet enjoying their meal!
Visit Dr. Jeff Werber's Instagram account (@werbs_dvm) to view and submit questions and answers on weekly AMAs – or call and leave a voicemail at 424-835-0576. Your call will be returned posthaste. For emergencies, download Dr. Jeff Werber's app Airvet, a video-chat option for veterinary needs at any time of day or night!