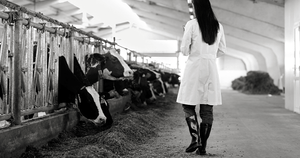 (By Louis Toffoli) 
Wondering how to become a veterinarian? Being a veterinarian can be a very rewarding career, and some might even consider it the best job in the world. Who wouldn't want to work with animals! If you love animals and enjoy scientific subjects, becoming a veterinarian could be a great career choice. 
However, the road to becoming a veterinarian can be a challenging one. There are extensive educational requirements to become a Doctor of Veterinary Medicine, and you need other soft skills for the job.
In this article, we will be discussing how to become a veterinarian and if this career is right for you. 
The Education Requirements of a Veterinarian
To become a veterinarian, you will complete between 8-10 years of schooling once you graduate high school. Once you receive your Doctor of Veterinary Medicine (DVM) degree, you can begin working as a veterinarian. 
While many veterinary schools do not require an undergraduate degree to apply, most accepted applicants have a Bachelor's degree or an advanced degree. Many aspiring veterinarians receive a Bachelor of Science in a related field. 
Some of the most common majors of pre-veterinary students are: 
Animal Sciences

Wildlife Biology

Zoology

Biology 

Chemistry
These majors lay a solid foundation that will help you during your next step in veterinarian medicine. Once you receive your undergraduate degree, you will need to apply to veterinary schools. In the United States, veterinary school is a four-year program. 
Additionally, you can specialize in different areas of the field—such as radiology, cardiology, or orthopedic surgery. Specialization can add 1-2 years, resulting in up to 10 years of total schooling. 
When applying for a spot in one of the vet med schools, the competition can be tough. There are 30 veterinary schools in the United States, with an average acceptance rate of 10% to 15% among them. 
What Veterinarian Schools Have The Best Reputation?
When applying to veterinary schools, two of the most important things are the education reputation and the employment record. You want to know that you are receiving a top-tier education and that you have a great chance of landing a job after school.
One of the most reputable veterinary schools you can attend is the University of California, Davis (UC Davis.) With a near 100% employment rate of graduates, this school is one of the best in the world. 
This school is also where Dr.Jeff attended after graduating from U.C Berkley and received his veterinary degree in 1984. If you want to attend a prestigious university known for top-tier education, UC Davis is the school for you. 
As one of the most prestigious universities globally, Cornell University is a private school known for its veterinary program. The competition is tough for this school's program, with many people applying several times before being accepted.
Cornell University also has one of the highest GPA requirements for their veterinary school program, with an average GPA of 3.7 for the class of 2022. If you are up for the challenge, going to this private university could be the choice for you that opens doors. 
What Soft Skills Do Veterinarians Need? 
While graduating from veterinary school is a requirement, it isn't the only thing that makes an awesome veterinarian. There are a few soft skills or other characteristics that you will need if you want to thrive in this field. 
One of the most important skills that every veterinarian should possess is effective communication skills. Knowing how to speak to the owners of pets and making them feel comfortable is a skill you will use every day on the job. 
Some of the other soft skills that are recommended you have are: 
Empathy 

Time Management

Critical Thinking

Love for Animals
Conclusion
Becoming a veterinarian is a tough, yet rewarding process in an excellent career field. Whether you want to help livestock or companion pets, there is consistent growth in this field. You can help animals and give pet owners peace of mind that their pets are safe. 
To be a veterinarian, complete an undergraduate degree in a related major, and graduate from an accredited veterinary program. The process can be challenging, but it is a rewarding career  for many people.